Name?
Armaan.
Age?
Seven.
Where do you stay?
Anywhere I can find shelter.
What is your favourite thing to eat?
What do you mean by favourite food? I can only have a favourite when I have a choice of food, but I never get a choice. Whatever I get, I eat. I don't even have time to taste because I am scared that if I eat it slowly someone will snatch my food.
What class are you in?
I don't go to school. I don't have the time. It is a choice between finding food or wasting that time to go to school. It is a choice between my stomach and my brain, and I will always choose my stomach.
How do you get the money to buy food?
I go through people's rubbish and sell anything that I can find. Most days, though, I cannot find anything to sell, and on those days I have to either steal food or steal money to buy food.
Name?
Rukmani.
Age?
67 years old.
Where do you stay?
I used to stay with my son, but he threw me out of the house. Now, I have nowhere to stay.
How do you get money to buy food?
I am too old to work. I have to beg for money but no one gives anything. Most days I sleep on an empty stomach.
The interactions above are just examples of what the homeless and underprivileged have to face on a daily basis. Left starving, many have to resort to crimes like petty theft and begging to fill their stomachs. An empty stomach is breeding ground for a lot of social evils. With over 194.6 million people going hungry on a daily basis and 3000 children dying of hunger every year, India is home to the largest undernourished population in the world.
Wishes and Blessings decided to step in and address this problem and make a difference in the lives of the underprivileged. In 2015, they launched a new project to feed the underprivileged – 'Daily Meals Programme'.
What is the Daily Meals Programme?
The programme targets problems of hunger, malnutrition and poverty. Meals are served in all shelter homes that are run and supported by Wishes and Blessings. The first phase fed 60 homeless and poor men, women and children. Now, in 2018, the programme feeds more than 350 underprivileged people 3 hot and nutritious meals a day.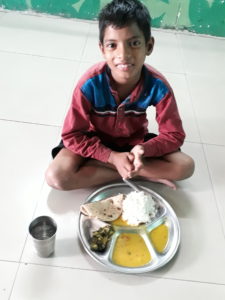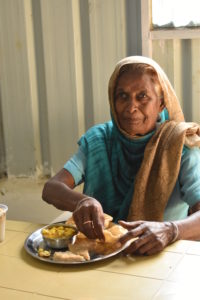 With full stomachs, people like Armaan and Rukmani amma can live happier and healthier lives!
Watch this video to find out how Wishes and Blessings is changing the lives of the underprivileged, one meal at a time…
Would you like to change the life of an underprivileged child?  It takes just Rs. 3,300 to feed one homeless person 3 hot and nutritious daily meals for 3 months! Do you want to ensure full stomachs and therefore the health of the poor and the homeless? Get in touch with Wishes and Blessings now!