Holi, the 'festival of colours' is one of the greatest celebrations in India. It is also known as the 'festival of spring' or the 'festival of love'. It is of no shock; despite being a Hindu festival other religions too celebrate Holi with the same spirit and enthusiasm throughout the country to spread love and colours into other's life.
Holi is an integral part of Wishes and Blessings. In fact, Holi was the trigger for the founder, Dr. Geetanjali Chopra, to set up a formal institution to help the underprivileged.
Geetanjali's grandfather played a large role in her upbringing. A major part of her childhood was formed by going to celebrate all festivals with visually impaired children. She continued this tradition even after her grandfather passed away. She never liked celebrating Holi, but the Holi of 2014 changed her life forever. On one of her regular visits to a school for visually impaired children, she asked the kids if they wanted anything. A young girl spoke up, "Didi, we want to play Holi!" Geetanjali was immediately taken aback. She just could not think of a way to help these children play Holi, but she was determined to fulfil their wish. All it took was a quick email to her colleagues at Centre for Policy Research, asking for help and advice as to how to go about this near impossible task, and to her surprise funds started pouring in along with kudos and blessings.
The Holi of 2014, Geetanjali says, was one of the best times of her life. The impossible became possible and 100 visually impaired children celebrated Holi with pichkaris and gulaal, and most importantly, lots of fun!
Holi is now one of the most important festivals celebrated by everyone at Wishes and Blessings, and the Holi of 2019 was nothing less than an absolute blast!
The Wishes and Blessings team and a group of dedicated volunteers celebrated Holi with the visually impaired children. Splashing water with a 'Pichkari'and putting 'Gulal' on each other's face is the favourite part of these children. But just to tell you this is not only what they do on their favourite occasion. They let you experience the wildest Holi you, me or anybody could ever imagine. The fun-filled Holi celebration was followed by dance, music and a yummy Gujiya and Frooti treat for the children.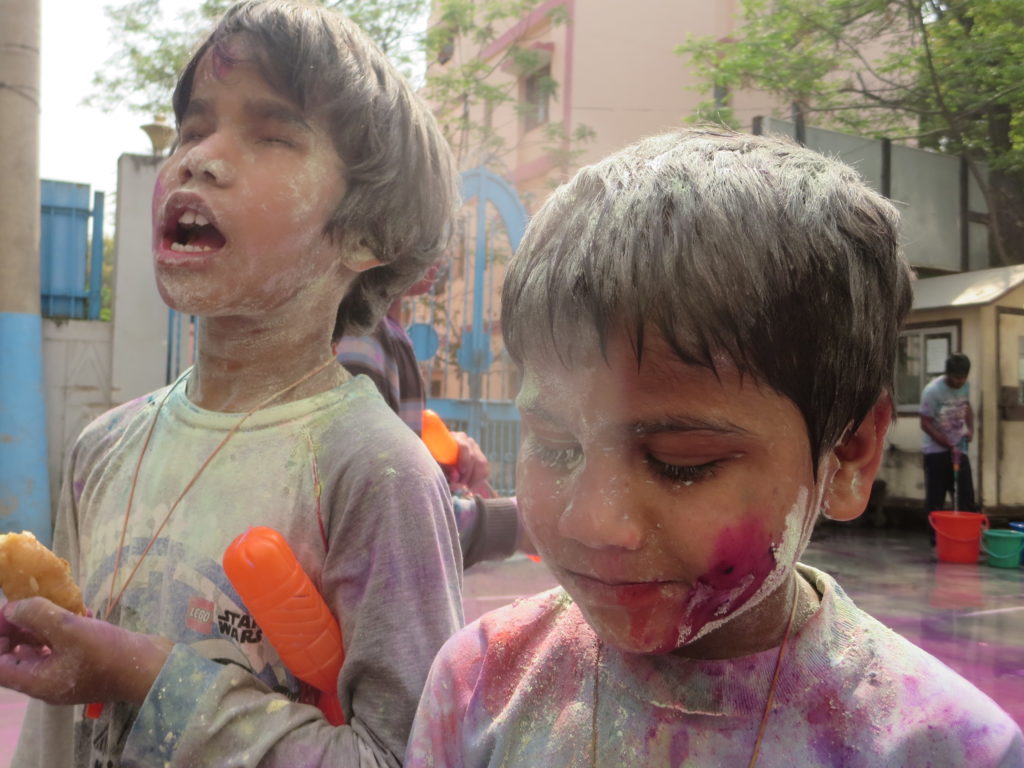 Celebrating Holi with these children is one of the best experiences you can have… the pictures do not do any justice to the excitement and fun that fills the air!